Our property features eight condominiums – four two-bedroom, two-bathroom units and four one-bedroom, two-bathroom units. Sandy Bliss is a quarantine approved accommodation.
New: In addition to our short term rentals, Sandy Bliss is now offering the option of long term rentals (6 months and over)!
Independent Internet Access available in each condo.
Be sure to bring along your bath salts to pamper yourself and rejuvenate in your private Jacuzzi after exploring our beautiful tropical island!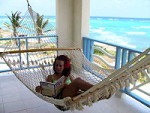 Considering the lovely south coast for your next Barbados vacation?
Why not stay at our sister property Ocean Bliss Apartments.